How can I reuse or recycle poker/betting chips?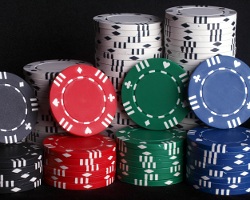 Inma has emailed us about betting chips:
Hi! I've found a lot of chips to bet, and I wonder if anyone has some use for them.
There was a fad for playing poker with betting chips a few years ago and all the shops were stacked full of them as cheap/easy Christmas presents – so I bet (ha!) there are lots of unwanted ones lying around people's houses.
As is just about always the case, the first suggestion should be to pass them on if you can: gift them to a charity/thrift/op shops or jumble sale, or sell them yourself at a car boot sale/garage sale.
If the set is too depleted for that, I've seen them used for various little craft projects – turned into keyring fobs or wine glass charms, or for smaller ones, used to make fun costume jewellery (drop earrings, necklace pendants, or even oversized ring decorations).
For bigger projects, I've seen basic coffee tables customised with dominoes or Scrabble tiles – I wonder if betting chips could be used in the same way… They could certainly be used to decorate photo frames or other items for a poker/betting fan.
I'd probably throw a couple into our tool box just in case I ever needed something like these plastic discs but I'm not sure what I'd use them for – perhaps, if they were thin enough to open cans of paint (a painter I used to work with recommended using 2pence coins instead of screwdrivers so I'm extrapolating from that), or instead of bits of paper to level up wobbly furniture.
Has anyone else got any crafty reuse/upcycling ideas? What about other practical suggestions?
Related Categories
hobbies
,
items
,
toys
Search for other related items