How can I reuse or recycle dried pasta?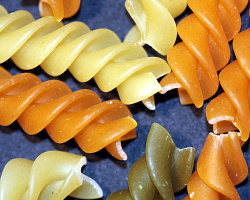 We've had an email from Catelin:
I misfired with a bag of pasta yesterday and it went all over the floor instead of into the pan! With our dogs, the ten second rule definitely does not apply so we can't eat it now but I can't bring myself to just throw it away either.

What can I do with it? Can I compost it?
It's probably ok to go on the compost heap – because our compost heap is very close to our house, I'm overly cautious and I usually say don't compost cooked pasta in an open heap or bin in case it (or rather stuff it's been cooked with) attracts vermin, but not-cooked stuff should be fine.
Aside from that, you might be able to reuse it in a non-culinary situation. We've used dry pasta in place of poker chips (worked fine until John started eating his pieces) and of course kids can use it to make art – macaroni being the most common for that but other shapes like bows (farfalle), shells (conchiglie), and twists (fusilli) would work just as well. Kids could also use tubular pasta – like penne and tortiglioni – for threading practise (be warned: you might end up with a billion pasta necklaces…).
Any other suggestions?
Related Categories
food
,
items
Search for other related items