How can I reuse or recycle leftover chips?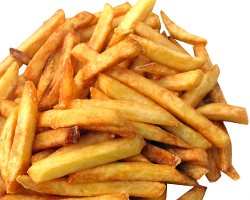 Mari has emailed asking about leftover chips – as in English chips eaten hot, thick fries not potato chips/crisps – saying her family nearly always have "eyes bigger than their bellies" when they order fish'n'chips and end up with some leftovers:
Good thick chips not just tiny hard scraps. It's such a waste. Can anything be done with them?
Obviously the first thing here is to reduce the amount she & her family buy in the first place – but I realise chip portions are a variable thing. I read about a study recently that found that portion sizes could vary from between 250g (half a pound) to 1kg (2.2lbs!) depending on the shop and server. I think most families would have leftovers even if they bought just one bag of the latter!
Whenever my father (not) in law has leftover chips, he wraps them back up in their paper again and freezes them for a snack at a later time. I'm not sure how he defrosts/reheats them (and admittedly, he's not got particularly high standards when it comes to cooking) but it might be worth experimenting with if you have them leftover regularly.
At the end of the day though, they're just leftover fried potato – and can be reused like any other leftover potato. Mash up the softer ones – they could be used in fish cakes or a hash/bubble & squeak. The little hard ones could be chopped up and used as a crispy coating/topping.
Here, they'd go in our "misc stuff for the chickens" pile.
What would you do with leftover chips?
Related Categories
food
,
items
Search for other related items