How can I reuse or recycle old PVC pipes?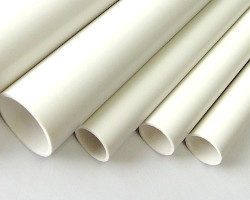 We've had an email from Madhvi asking :
how can I creatively recycle old PVC pipes?
We've covered some reuses for guttering and drainpipes – which are increasingly plastic these days – but I thought it was worth asking Madhvi's question because PVC pipes come in all sorts of diameters and lengths.
A few months ago, when I was looking to build us a laundry basket for the bedroom, I spotted this PVC pipe laundry hamper project, which I thought was a very neat idea. Depending on the size, that could possibly be made from offcuts or the idea shrunk down if you only had smaller pieces available. In a similar constructed-with-plumbing-joints vein, I also like the idea of this PVC pipe laptop stand and this bike stand.
As for smaller reuses without additional parts, I like this bathroom storage idea – I'm not sure how many people have two sets of curlers but it's an adaptable idea, especially regarding the cables. You could use them to tidy up electric cables under desks/behind TVs etc – if all the cables go through sections of pipes, they're less likely to be underfoot and get tangled. (If the end plugs are too wide to go through the pipe, you can cut slot in it to slide the cable through instead – this guy was doing it for something a little different but this is what I mean by a slot.) Similarly, you can use them instead of kitchen roll/toilet roll tubes for storing electric wires & extension cables when they're not in use – we're a geeky household, we've got a lot of spare wires ;)
And that's all before we start thinking about ideas for the garden!
As for actual recycling, PVC recycling has increased over recent years but it's still not as commonly collected for recycling as some other plastics (and it's harder to recycle too). If you have a lot of pipes to get rid of, contact your local council's waste department to see if they can accept them for recycling – or if they're still in a new/usable condition, pass them on to someone else yourself through eBay, Freecycle/Freegle or Craig's List etc.
How would you reuse or recycle old plastic/PVC pipes? Have you used them anywhere interesting around your home or garden?
Related Categories
business
,
household
,
items
Search for other related items