How can I reuse or recycle anti-perspirant bottles?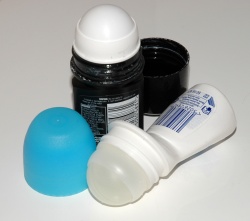 We flipped to roll-on ones from aerosol anti-perspirants for environment reasons – both big, out-there environment (the aerosol bit) and little, in-here environment (the spray quickly made the bathroom unpleasant as it deodorised your lungs) – but now we're left with lots of roll-on bottles instead.
I suspect the bottle and the ball are different types of plastic so am wary to throw them in the recycling bin – anyone know if they can be recycled? Does it help if you pop the ball out first?
But better than that, are there any reuses for them? Either complete or in parts.
And what about stick deodorant containers (the narrower, ball-less ones)?

Best Suggestions
Reuse: Use the rollerball action in other useful ways: pop the ball out with a spoon and fill the bottle with thin PVA glue instead of buying glue sticks, or bleach to control its application during laundry.
Recycle: Some bottles are made from easily recyclable plastic – check the bottom of your bottle to see if you can recycle it in your area.
See the comments below for more suggestions and ideas
Related Categories
bathroom
,
items
,
packaging
Search for other related items