How can I reuse or recycle a bundle of wires?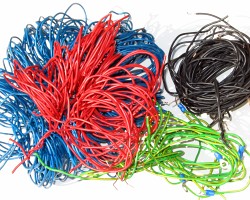 A few weeks ago now, we had a weekend away (to Lindisfarne – was great) and when we returned, we were greeted by a big bundle of wires in the middle of our garden path. A neighbour had found – and disassembled – a broken sunbed while we were away and the wires were leftover. He knows we like using odd things so left them out for us.
So I took them in and sorted them by colour – but don't know what to do with them. They seem to be quite thick – but malleable – copper, coated in pretty tough plastic. They mostly range in length from around 50cm (20″) to about 1m (40″), but there are some shorter ones at about 20cm (8″) too.
The wires look pretty flexible and strong but I don't know if they're bendy enough to use for something like macrame – at least fine knotting – but I like the idea of using them from something crafty. So any suggestions?
Or any more practical ideas?
Related Categories
household
,
items
,
technology
Search for other related items