Our five favourite ways to use up leftover turkey
It's easy to stop yourself from, say, cooking too much pasta or rice, but it's harder to cook just the right amount of turkey since they're a fixed (or at least minimum) size. Leftovers are no bad thing though – they just get a bit dull if it's turkey sandwiches every day…
Individual turkey and stilton pies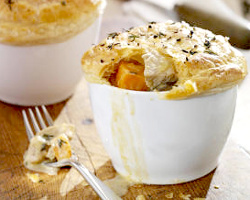 I love this idea since a lot of people have leftover stilton around at Christmas too. The already cooked turkey won't need as long in the frying pan though – add it with the mushrooms rather than before the sweet potato.
Making individual pies are also a great idea for this time of year when people are extra busy – these guys can be frozen then defrosted and cooked as needed rather than a big pie which has to be eaten all at once.
Hearty leftover turkey broth with bacon croutons
Come on, you just drooled reading that title didn't you? I certainly did! *wipes keyboard*
Another fab recipe because you'll have most, if not all, of the ingredients on hand from Christmas dinner preparations – such as root veg and streaky bacon – and the croutons also use up day-old/going-stale bread. If you're really organised you can make the stock from the turkey carcass first too (see side panel below).
Turkey stock
Make a stock from the turkey carcass for use in soups and stews. If you're not going to use it straight away, reduce it down to get rid of a lot of the excess liquid and freeze it. If you're feeling lazy, slow cookers are great for making stock – just pile everything in.
Leftover turkey enchiladas
After stodgy roasts and puddings (mmm stodgy food), this recipe is refreshingly light. Not at all seasonal with the courgette and peppers but still, mmm! If you haven't quite got enough turkey, pad it out with pinto or kidney beans.
(I also like the idea of stacking them like a pie rather than in rolls.)
Turkey Jambalaya
And keep with New World flavours, this is awesome and I'm drooling again at the thought of it. Leftover turkey, rings of some sort of smoked/spicy sausage, colourful veg and spices – a surprisingly quick but delicious option.
Turkey & Chickpea (Coconut) Curry
Finally, I couldn't do a leftover turkey round-up without including a curry – firstly, because turkey curry is a delicious cliche and secondly because I'm all about spiceness!
This recipe from the wonderful people at LoveFoodHateWaste is effectively two curries in one – yummy enough on its own but transformed into something a bit more Thai flavoured with the addition of coconut milk.
What will you do with your leftover turkey? What are your favourite recipes?
Related Categories
5 fantastic reuses
,
Christmas
,
food
,
links
Search for other related items