How can I reuse or recycle lots of hair elastics/bands/scrunchies?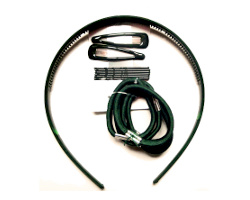 We've had an email from Donna:
My 12 year old daughter has just had her long long lovely hair cut off and when we got home from the hairdressers, she cleared out a big box of hair bobbles, loop bands, Alice bands, scrunchies, ribbons, all sorts of things like Claire's Accessories threw up in a box and told me she'd "never need them again"! They're all used as far as I know so I don't think a charity shop would want them. Would anywhere else take them?
(Heh, shop vomit.)
Perhaps Donna's daughter will be better keeping on top of her new 'do but I regularly need elastics when my (supposedly short) hair gets a bit long – so if I was her, I wouldn't throw *everything* away. An alice band and clips/barrettes are always super useful for those days when everything's pointing in the wrong direction.
If she has a lot of them, chances are most of them will probably be in good condition – how about washing them and encouraging her to sell them at a car boot sale? You could declutter some other stuff at the same time :)
I'd yoink the ribbons for craft stuff and the little elastics that are essentially a fabric covered elastic band as useful as gentler-than-normal elastic bands – I've heard them used in place of elastic bands in a number of household applications, but the only one I can think of at the moment is around the bottom of bouquets — the elastic is less likely to damage the stems. Any other suggestions for that?
And what about other ways to pass on or reuse all Donna's daughter's hair bobbles?
Related Categories
bathroom
,
clothes and fabric
,
items
Search for other related items