How can I reuse or recycle hair curlers?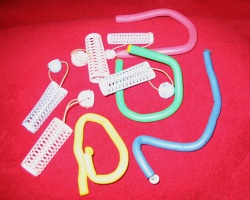 We've had another email from our most prolific suggester of things [Am] (aka Delusion):
Me again! While at my parents I caught my mother about to throw out some very old curlers. I managed to snag them before they reached the rubbish bin and thought they would be a good suggestion idea.
There are two kinds, one are cylinders with elastic looped at the bottom that attaches to the 'stopper' part and the other kind are spongy, bendy ones. Any ideas for usage to stop them being dumped in a landfill?
If they're bendy enough, I imagine the bendy ones would be a great addition to a tool box – you could use them for, say, holding pipes together or tying a garden plant to a support (the foam would stop the wire digging into the stem).
And for the cylinder ones, mini-bird feeders? Or if you could block each end, fill with lavender (or the like) to use as an air-freshner or in a drawer/wardrobe?
Any other ideas?
(Photo by [Am] – thanks :) )
Related Categories
bathroom
,
household
,
items
Search for other related items