How can I reuse or recycle "disposable" hair nets?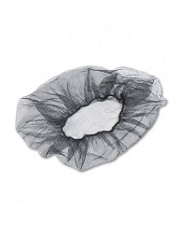 We've had an email from Philip, asking about disposable hair nets:
I work in food production (ready meal factory) and have to wear a hair net whenever I'm on the floor. Some staff have proper hats but the rest of us have to have single use hair nets. Management say it's cheaper but I think it's very wasteful. Can they be recycled?
Whenever I get hold of one of them, I keep it to reuse at home – single use, schmingle use – when having a big baking or preserving session. (I'm less bothered about having a completely sterile environment and more about keeping my hair out of my face – and my food.) But if I was getting them every day, that wouldn't really be an option – and they're not the sort of thing you could pass on to others.
From what I've read, that type of hat is typically made out of polypropylene (older style nets are sometimes nylon) so the actually recycling options are very limited to non-existent. It seems like there many be a possibility of textile reclamation but all the information I can find out it is in the US so I'm not sure if there are any companies over here. As for reuses, they're a bit like last week's net curtains but not as strong so not suitable for all the ideas for them – and again, if you're using them every day, they're quickly going to mount up so no amount of crafts can solve the problem.
I think the key thing here really is to reduce: if it's simply a matter of cost, you may want to consider buying your own hat so at least you're not contributing to the problem – they're not much and I suspect if you could get some other people involved you might be able to push the price down further by bulk buying (or at least sharing out delivery costs). However, from what I've read, there is sometimes an issue about not taking protective clothing outside of the sterile environment so it would be worth checking what arrangements (if any) are in place for handling the existing proper hats.
Anyone got any reuse ideas? Or any suggestions on how Philip can lobby his bosses into doing the right thing and getting reusable hats?
Related Categories
business
,
clothes and fabric
,
items
Search for other related items