What can I reuse or recycle to make dishcloths or pot scrubbers?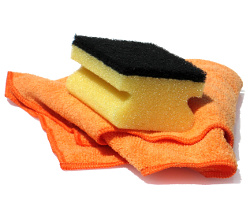 We're having a cleaning-themed week here on Recycle This – yesterday, we talked about reusing or recycling bleach bottles but today I'd like to think about making and have a question for you guys:
what have you reused or recycled to make reusable dishcloths or pot scrubbers?
A lot of people knit or crochet dishcloths or tawashi scrubbers from either new cotton or reclaimed stuff – but there are also how-tos for making them out of plarn (plastic bags turned into yarn) for a more abrasive dishcloth/scrubber.
Less involved, onion nets can be very quickly made into scrubbers – just followed in on themselves to make a ball/scrubber shape.
What have you used to make them? Any pattern suggestions?
Related Categories
bathroom
,
household
,
reverse this
Search for other related items