How can I reuse or recycle … onion or orange nets?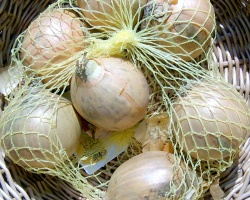 We tend to buy 1kg or 2kg nets of onions – plastic nets, with 1cmx1cm ish holes – but can't think what to do with them once we've finished the pack. The same goes for the rare occasions when we buy big packs of oranges or lemons.
We use smaller nets – the type that garlic comes in at the supermarket – to make little bird feeders to hang in trees but the nuts and seeds mix we use falls out of the bigger holes in the onion/orange/lemon nets.
Any suggestions how we can use them again?
(Photo by upn)
Related Categories
food
,
items
,
packaging
Search for other related items