How can I reuse or recycle Strepsils "handy tubes"?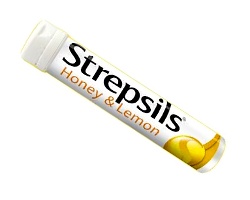 Hey team. Apologies for the lack of a post on Friday – I was ill with my second cold of 2011 (which, given it was only the 7th of Jan, I thought was pretty good/bad going. I'm in the constant coughing stage now, such fun.) I spent the whole day in bed wishing I could get a sinus transplant – only momentarily distracted by the new DEFRA 2009-2010 recycling stats by area report – numbers are the best medicine ;)
Those who know that Strepsils are a vaguely medicinal lozenge for sore throats will probably be able to see that the inspiration for this post came from my sick bed.
For years, they've been sold in blister packs but now you can get them in plastic "handy tubes" too. I would imagine that the tubes use more packaging per tablet than the blister packs but they seem considerably easier to reuse, and reuse often, than blister packs.
The tubes are sturdy plastic, just less than 2cm/an inch in diameter and about 10cm/5ins long. The lid pops off but re-seals securely – the new camera film canister, perhaps?
The tube I've got smells strongly of "honey & lemon" so I'm not sure I'd want to use it for food items in the first instance but it would be perfect in a sewing kit – somewhere to keep needles, buttons or other small fastenings, or even a whole emergency kit for carrying in a handbag. As the top's seal feels at least water-tight, it would probably be great for taking small quantities of shampoo or conditioner (etc) when travelling.
Any other suggestions?
Related Categories
bathroom
,
items
,
medical
,
packaging
Search for other related items