How can I reuse or recycle crisp/chip tubes (eg, Pringles tubes)?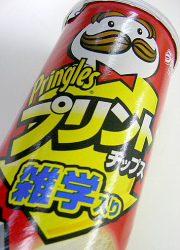 We've had an email from Julia, who work for the British High Commission in Abuja, Nigeria.
She explained "I hate throwing away those clear plastic tops from crisp tubes… so started thinking" – and she came up with some reuses for her regional recycling newsletter:
– Use to cover a glass to prevent insects flying in
– Cover a glass for storage in a fridge
– Find the right sized cup and use as an air-tight top
– Punch holes in it, fit over cup and use as a shaker
– Use as a coaster
– Decorate with coloured markers and hang as sun catches
Great reuse ideas – anyone got any more suggestions? I've used them under plant pots before now but the lip is so shallow that they're more like coasters rather than water-catching saucers.
What can you do with the tubes themselves? Any recycling ideas?
(Btw, I can't believe we've been doing this for four years and not featured Pringles tubes yet!)

Best Suggestions
Reduce: Make your own snacks instead – how about oven baked sweet potatoes ("yams" in the US)? Or parmesan crackers?
Reuse: Cut a slit in the lid to use them as a money box. Use them for storing craft supplies like knitting needles or paintbrushes. Use them as postal packaging – for handmade biscuits or as a small poster tube.
See the comments below for more suggestions and ideas
(Photo by jetalone)
Related Categories
food
,
items
,
kitchen
,
packaging
Search for other related items