How can I reuse or recycle … squeezed toothpaste tubes?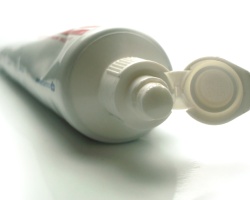 A few weeks ago, I wrote a how-can-I on those solid, upright toothpaste tubes and one of the commenters, Cadan, asked what about squeezy toothpaste tubes instead.
So what about squeezed squeezy toothpaste tubes?
They used to be metal (like tomato/garlic puree ones still are) but now toothpaste tubes – or at least the ones we used – seem to more plasticky instead. The plastic ones look like they might (MIGHT) be easier to refill – anyone got any suggestions on what they could be refilled with? The metal ones though have a tendency to weaken at the edges when they've been utterly squeezed dry and rolled up so I doubt they can be refilled – does anyone know if they can be recycled?
(Photo by stocker)
Related Categories
bathroom
,
items
,
packaging
Search for other related items