How can I reuse or recycle completely dry fudge?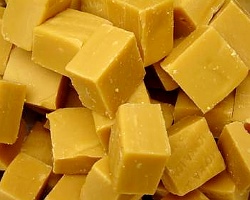 Recycle This regular Anna left a question on the Suggestion page back in APRIL but I somehow missed it until now – sorry Anna!
Her question was:
How could I use completely dry fudge? I have two big boxes of completely dry Irish fudge that I'd like to find a use for. The fudge isn't crumbly but dry and hard – hard enough that I don't want to risk my coffee grinder with it.

Is there a way to make it soft again? Or just break it to small pieces somehow or soak in coffee or something.
Mmm, fudge. Between my misunderstanding about crackers on Tuesday and yesterday's leftover turkey recipe round-up, Recycle This has conspired to make me feel hungry all week!
Could it be grated with a cheese grater and used as sprinkling on top of cakes/foam-y drinks?
This "failed fudge fool" recipe might work too – make it into a creamy dessert.
Any other ideas?
Related Categories
Christmas
,
food
,
items
Search for other related items