How can I reuse or recycle a rusty cheese grater?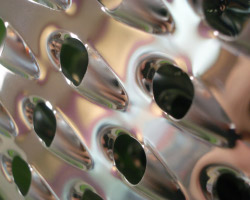 (My! doesn't that sound like a smutty euphemism? :) )
We've had an email from Alicia:
Because a leak caused damp, all the metal stuff in my kitchen cupboard went rusty while I was on holiday. Didn't think that could happen but it has! There is a square grater, a colander and a seive. Can I do anything with them?
I've de-rusted a cast iron griddle pan and we regularly have to de-rust our less-than-perfectly-seasoned wok but I imagine it might be harder work to restore holey things like that – anyone got any advice on repairing them and protecting them so they don't continue to rust?
I've seen all three used as fun light fittings (eg this Instructable uses a colander as a ceiling light shade). If you don't want them rusty, you could sand them back to get rid of the flakiness and paint them to protect it from future rust and give it a new look.
Failing all that, they're some sort of metal so can be recycled in the metal scrap bin at your local tip/waste collection site.
Any other suggestions?
Related Categories
household
,
items
,
kitchen
Search for other related items