How can I reuse or recycle out-of-date instant coffee?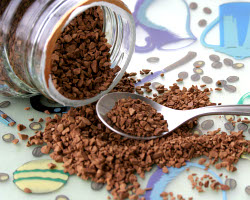 We've had an email from Allison:
We always have coffee in for visitors but rarely use more than a few spoonfuls of it before it goes out of date. Can I do anything it?
The only reuse I can think of off the top of my head is making ye olde stained paper when I was a kid – possibly not the most useful suggestion unless you really, really like making fake old maps ;)
A quick Google reveals some more useful things – they can be used as a scent in soapmaking, dying fabric or even to develop camera film.
Any other ideas?
Related Categories
food
,
items
Search for other related items