What can I reuse or recycle to make Advent calendars?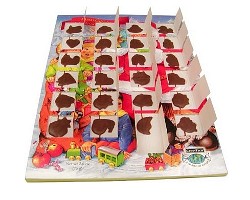 Advent started yesterday so really I should have asked this question last week but nevermind.
We don't celebrate Christmas but I know that one or two people around the world do – and some of those people have Advent calendars to open on the run up to the 25th.
When I was a kid, I'm pretty sure my mum gave us the same calendar several years running, with the doors closed neatly back into place – it didn't matter because the joy of opening the door to see what was behind it was enough. Then when I was my early teens in the early 1990s, chocolate advent calendars suddenly became cheap and wide available, the chocolate rather than the drawing of the bell or the reindeer became the goal and the calendar was suddenly disposable.
But it doesn't have to be that way! There are some great examples of creative – and reusable – advent calendars out there – such as the this spool advent calendar kit from Cathe Holden of Just Something I Made – I imagine something similar could be made by recycling any sort of plastic tubing or even decorated toilet roll tubes if you haven't got 24 cotton spools to hand. I love the idea of having treasure hunt elements to the messages or having Christmas preparation activities to-dos – or they could be silly jokes to get everyone warmed up for their Christmas crackers.
I've also seen some examples where people have gathered together 24 boxes – they could be old packaging painted or covered in paper as well as numbered – and stuck them together to make a countdown calendar with plenty of storage. They wouldn't have to be filled with treats or gifts – tree decorations would work well – many kids would love to decorate the tree an item at a time as each item is revealed. And weekend days could be filled with craft supplies that they have to make into a tree decoration.
And it's not strictly recycled but I also love the reusability of Attic 24 Lucy's advent garland – it could be recycled if you used reclaimed yarn or upcycled fabric to make sewn stars instead of crochet).
Have you made an advert calendar by reusing or recycling anything?
Or have you seen any more great examples out and about on the web?
Related Categories
art & crafts using recycled stuff
,
Christmas
,
household
Search for other related items