How can I reuse or recycle … old calendars and diaries?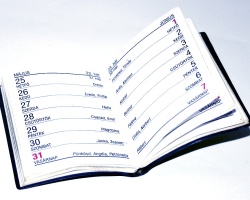 So, another year comes to an end this weekend and that'll mean that a whole load of 2006 diaries and calendars will the heading to the rubbish heap.
If you have calendars with pretty pictures on, I guess you can cut out the picture to keep for future use/enjoyment, but what about other calendars now that you no longer care about the dentist appointment you had last August or your reminder to buy milk in May?
And what about all those used desk diaries and pocket diaries?
And on a bigger scale, what about those year planners hung on the wall of every office?
(Photo by ask)
Related Categories
household
,
items
,
office
Search for other related items