Great reusing and recycling ideas from November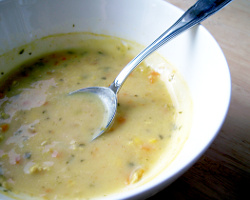 Here's some of my favourite comments left on the site over the last month in case you missed them first time around.
First up, props to everyone who left comments on our post about how to get into the habit of taking packed lunches – great answers from everyone: Bellen, Alice, Alexis, carol, Bobbie, Karmae, cmdweb, Marti and "Computer Recycling and Disposal". I almost wish I left the house regularly enough to warrant taking lunch!
And Robert Campbell and Rainwater Recycler's comments on our post about how to improve a greywater system were also very informative.
Karmae also left a great suggestion on the post about how to reuse or recycle the ends of receipt rolls – use them to expand clothes sewing patterns when the wearer changes sizes.
Summer suggested using the bottoms of plastic bottles to keep underwear drawers tidy and Petra left a comment explaining her spin on the using a bottle top to make a resealable plastic bag thing – use them on balloons. Or, she hypothesises, that it might be possible to make a "vacuum" seal bag for fabric storage.
Thoey uses the stubs of old pencils – ones with erasers on the end – to make mini stamps.
Mary Horesh added a sixth suggestion to my great reuses for polystyrene list – use it to fill empty space in your freezer as freezers are less efficient the emptier they are (you can also use plastic bottles filled with water for this purpose).
Alexis, who I'm currently living through vicariously for my spinning and weaving wants, has suggested using an old curtain to insulate a draughty loft hatch.
And finally Bellen gave us a reuse and a warning – metal sweet or biscuit tins make great drums for kids. Just very, very loud ones.
Thanks to everyone who has suggested things over the last month – lots of really inspiring ideas!
(Soup photo by ellikelli)
Related Categories
featured-comments
Search for other related items