Recycling pop and water bottles into flowers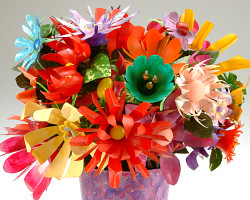 Not a usual "How Can I…" post but I had an email from Jan (who comments as twinks) yesterday about the flowers she makes from old plastic drinks bottles and I thought it was worth a mention.
She says:
These were among the first flowers I made from all those plastic bottles that accumulate in and around our lives. They have become much more sophisticated over time with subtle colouring and more shaping, and they LAST for at least 7 years even outside (that's how long mine have been outside even through brutal Canadian winters).
She's written about them on her blog and in case anyone fancies giving it a go themselves, I've put some instructions from Jan in the comments section (below).
(Are you, or anyone you know, making art by reusing/recycling random old stuff? If so, let me know and I'll feature it here.)
Related Categories
art & crafts using recycled stuff
,
packaging
Search for other related items