How can I make a Christmas fairy out of a chicken/turkey wishbone?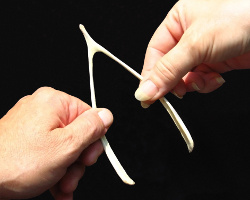 Eileen Bradley left a comment on our "how to make Christmas decorations by reusing and recycling stuff?" post, asking about wishbone fairies:
Does anyone know how to make Christmas Tree Fairies from Chicken or Turkey wishbones. I have seen them made but don't know how to make them. Thank you
I've never seen them – and Google isn't helping me either so I can't be any help. Anyone else know more about them? Have you made one? And if so, got any hints/tips to get Eileen started?
Or has anyone got a picture of one so we can see what Eileen means?
(Yes, I know I'm posting about Christmas in November but I thought it might be worth posting it ahead of Thursday, when one or two of our USian readers might be eating turkey.)
Related Categories
Christmas
,
food
,
reverse this
Search for other related items