Reducing waste after Christmas – our top tips
So the big day is nearly upon us again.
Hopefully you've already been busy upcycling random stuff into Christmas presents and recycled Christmas decorations – it's easy to keep the green theme going after Christmas too.
Give away unwanted gifts & replaced items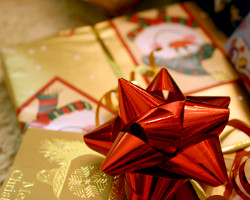 Don't wait until you spring clean – declutter now while all the new additions are fresh in your mind.
Give away items that you don't want or won't use, or old items that have been replaced by something shiny and new – the sooner you give it away, the sooner someone else will get some use out of it, and it might stop them having to buy new-new in the January sales.
Reuse wrapping paper
Don't throw away wrapping paper – reuse it instead. The bigger pieces can be flattened out and used again (kids especially won't notice the same paper being used year on year), or made into reusable paper gift bags.
Smaller pieces can be used to make gift tags, festive envelopes or used to revamp Christmas decorations for use next year.
Particularly creased pieces can be shredded to provide protective cushioning for gifts throughout the year – or to protect delicate Christmas decorations while in storage, which brings me neatly onto…
Be kind to your Christmas decorations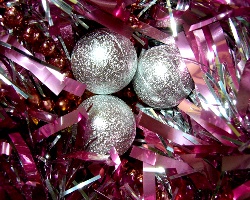 Store them away carefully and you'll be able to use them year on year – meaning less waste going to landfill and reducing your need to buy new stuff.
As well as shredded wrapping paper, you can use packaging (such as moulded expanded polystyrene foam and formed plastic) from new toys or gadgets to protect delicate items. Wrap tinsel and strings of Christmas lights around a kitchen roll tube or a plastic bottle to avoid tangling. Label boxes so you can find them again easily.
If you don't have any space for storage, don't throw away decorations – pack them away neatly and offer them on Freecycle/Freegle.
Reuse or recycle your Christmas cards
Similarly, keep your favourite Christmas cards to one side – possibly tucked into a decorations box – to recycle into gift tags or recycled decorations next year. Cut others into narrow strips to use as shopping lists – the card is easier to write on than paper when you're on the go. Keep large cards for crafts – for when you need thin but strong card. There are lots of different ways to reuse them.
If you can't see yourself reusing them, plenty of high street shops have recycling collection bins especially for cards – typically WH Smith, Tesco and M&S – often with a donation going from the store to a related charity (such as the Woodland Trust) for every bin of cards collected. Some charity shops also collect cards for reusing/upcycling into gift tags and the like – ask around to see who is collecting them in your area.
Use up every single bit of your turkey – and other food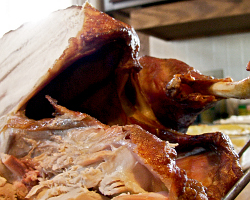 A lot of energy went into growing the bird, transporting it around and cooking it – so make the most of it by using up all the leftover meat and making stock from the carcass.
Use leftover veg to make soup, stews and stock.
Use leftover Christmas cake to make fruity rum truffles – or throw it outside for wild birds to eat.
If don't think you're going to get through all your Christmas biscuits or mince pies, be proactive about it before they go stale – freeze some for later consumption (keep the festival spirit going all January!) or give them away to someone else – they might be very grateful for free treats!
What are your favourite ways to reduce waste at Christmas?
(Photos by soultga, Tombre and Vanessa Fitzgerald)
Related Categories
5 fantastic reuses
,
Christmas
,
food
,
packaging
,
reduce this
Search for other related items