How can I reuse or recycle till receipts & their rolls?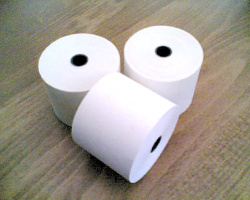 We've had an email from Roger:
I was wondering Have you ever featured Till receipts on your website, I work in a supermarket and at least once a day i 'run out' of till receipt paper and have to replace it, But i'm sure there is at least 10% of the paper still on the roll, and if you add this up to all the tills in a store that's a lot of wastage.

I like to keep mine to one side until a parent with small child come along and donate it as some colouring in paper, or use it to write class notes but i was wondering if you know of any recycling schemes for en mass collection or even if the paper is recyclable full stop (it has a glossy finish)?

There is also a sturdy plastic tube as well that you can glue together to make a pen holder, but there are only so many pens in the world.
When I used to work at supermarkets, back in the day, we used to keep the end of the rolls for notes – break times if nothing else – but the plastic rolls were just slung in the bin.
Receipt rolls used to all be thermal paper – like the old fax paper – and that can't be recycled – but I wonder if that's changing now (most of the supermarkets I've been in recently have new printers, to either do double-sided receipts or to print it all at the end) – anyone know? If they still are thermal paper, we're be looking for reuses rather than recycling suggestions.
As for the sturdy plastic rolls, I don't know of any recycling schemes off hand but I'll contact some of the big chains to see if they do anything. Aside from the logistics of returning them, it doesn't feel like there is anything in the way of stopping them being reused for the same purpose, since they don't exactly change or get damaged during their roll. Anyone know of any schemes to reuse them? Or have any suggestions to reuse them elsewhere?
Related Categories
business
,
items
,
paper & stationery
Search for other related items