How can I reuse or recycle pet food pouches?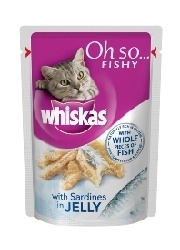 Our lovely old cat Boron has had the last of his teeth taken out this week – he's always been prone to gum problems and while gummy, he seems happier now his mouth isn't so inflamed.
Our vet says he might still be able to have dry food – which has made up the bulk of his diet for most of his life – but once he (Boron, not the vet) knows we'll give him more wet food if it's too painful/awkward for him to eat biscuits, I suspect he'll made demands for that all the time.
When we had four cats, we used to feed them cat food from cans – a can per day between the four of them as a treat, alongside unlimited dry biscuits – but after losing two of them, cans were resulting in too much food waste and we had to switch onto pouches. It was a struggle for me, giving up easy-to-recycle cans in favour of annoying just-about-impossible pouches — a toss up between packaging waste and food waste.
Now Boron is going to be eating more wet food, we might be justified in moving back onto cans – or, sigh, we might just end up generating more pouches.
I've contacted a couple of cat food companies to see what they advise doing with the pouches – I'll update this post when I hear back from them – but in the meantime, do you use pet food pouches?
Do you have any reuses or recycling ideas for them?
Related Categories
food
,
household
,
items
,
packaging
Search for other related items