Green Halloween: how can I reduce the amount of sweet/candy wrapping?
Continuing in our Green Halloween series…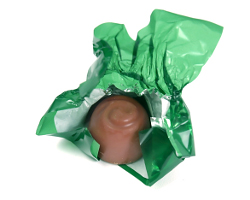 What with food safety issues and all the urban legends about razor blades & whatnot, nearly all trick-or-treat treats these days are shop-bought and individually wrapped – possibly the worst way to eat sweets or chocolate in terms of packaging waste, especially as it's mostly plastic wrappers which can't be recycled.
Do you do anything to minimise the amount of sweetie packaging you give out – or collect?
What are the most reusable or recyclable options?
One way of to reduce, of course, is to opt out of the whole trick or treating thing altogether – but are there any other alternatives?
And while we've covered this before in the long dim and distant past, any new reusing/upcycling ideas for the wrappers – transparent ones like in the picture or opaque ones used on mini chocolate bars etc?
(Photo by eisenbahner)
Related Categories
food
,
Halloween
,
packaging
,
reduce this
Search for other related items