How can I reduce the amount of packaging I receive in the post?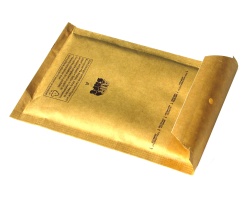 The other day, Mrs Green of My Zero Waste mentioned how happy she was to receive something in the post wrapped in newspaper rather than a bubblewrap lined envelope or plastic bag.
We buy a lot of stuff online – secondhand stuff from eBay, homemade things from Etsy/Folksy, computer bits, craft supplies, clothes for us and the bajillion small people exploding from the loins of our friends etc etc – and as a result, always have a large amount of packaging lying around our office. A lot of online shops have made improvements over the last few years – crinkled brown paper or air bags instead of polystyrene packaging nuggets, and I've received stuff from eBay in all sorts of reused cardboard boxes – but the pile still grows. I reuse it where I can (see below for related reuses) but I'd rather reduce the amount of stuff I receive in the first place if possible.
The most obvious answer to the question is "stop ordering so much stuff online and support your local shops instead", which is fair enough for some things but other things are harder to come by in real life.
Has anyone ever asked an online shop to reduce the amount of packaging they use? Has anyone sent it back for them to deal with? I'd love to hear your experiences.
If you sell stuff online, what do you do to keep packaging minimum? Got any suggestions for others in the same position?
Post packaging reuses
Related Categories
items
,
office
,
packaging
,
paper & stationery
,
reduce this
Search for other related items