How can I repair a broken bra?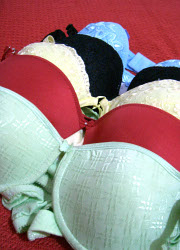 After a couple of years of faithful service, one of my beloved bras has broken. It's one of the two really quite expensive bras I own – they cost a lot of money but worth it — supportive, comfortable to wear and resulting in (what is I've been told is) a pleasant boob shape.
Because it was great quality to start with, it's in pretty good condition – except that one of the underwires has snapped. My mum suggested removing both of the underwires and wearing it as a non-wired bra. I think I need more support than that for daytime wear but it's definitely a last-resort option.
I think I'd prefer to replace the underwire if possible — I have a collection of underwires (and hooks & eyes, and straps) from old bras in my craft box but they were mostly from my smaller-boobed days so I'm not sure they'll fit. It's certainly worth checking though. Other than that, Google tells me it's possible to buy replacement underwires at haberdasheries – although I can't say I've seen them.
Anyone got any advice on replacing an underwire?
Also, anyone managed to successfully fix a bra when the underwire is popping out of its pocket and jabbing you in the cleavage or armpit? I've tried sewing up escape holes on a number of occasions (with different bras) but the wire has always found a way through the stitching again — is a mini-patch the answer?
Another problem that I sometimes have is when the "catch" (for want of a better word) on the strap starts to slip and the strap lengths & my boob sags further as the day goes on. Anyone got any suggestions for fixing that? Or replacing a strap/the little loop at the bottom of the straps?
Any other bra breaks/fixes?
Related Categories
clothes and fabric
,
packaging
,
repair this
Search for other related items