How can I reuse or recycle … old bras?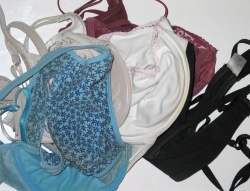 I find it strange how attached I get to a couple of bits of cloth and a bunch of straps. Some bras I've worn to absolute death – until the underwire had been sown back in countless times and the elastic in the cloth is decidedly inelastic – and then I've been sad that they're gone (turquoise bra – still miss you, sigh).
Other bras I own I've worn a good number of times but now they don't fit – mostly because I've put on weight but also because I was less fussy about how well they fitted in the past so have a heap of bras that looked nice at one point but were completely the wrong size to begin with (purple lacy one, looking at you here).
Either way, the result is I've got a stack of bras that I can't wear any more but that aren't good enough quality to give away to a charity shop or the like.
Any ideas what I can do with them? Suggestions for what to do with any of their component parts (underwires, straps, fasteners, the cups themselves…) are welcome too.
Related Categories
clothes and fabric
,
items
Search for other related items