How can I reuse or recycle wooly winter scarves?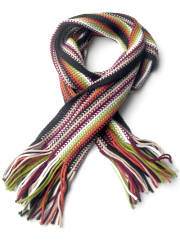 Brr! For few days last week, it felt like we were getting a last minute reprieve from summer's sayonara but now it feels very autumnal indeed. I guess it's time to shift into winter mode – I've got a list of insulating chores to complete, the garden needs more tidying, I need to make soup, lots of soup, and I also need to go through the woolies in my wardrobe to see what's in there & what's still wearable etc.
Now is the perfect time to do the latter because charity shops, shelters and other related charities need clothing in good time before winter properly kicks in – they need to time to sort and distribute them etc. I urge everyone to have a look through their wardrobes and see if there is anything that could be used more productively by someone else. And it's not just jumpers or cardigans – scarves, hats & gloves are all very useful and in high demand too.
When possible, passing on items for reuse by others is always the best option — but what if they're not they're not in a suitable condition for passing on? Or if they've got sentimental appeal (such as they were made by a loved one)? What can be done with them then?
If part of the scarf is damaged/stained, the rest of it could salvaged to reuse as any flat knitted fabric – cute tote bag, cushion cover, nappy/diaper cover – and if it's got a decent quantity of wool in it, it could be felted opening up more options (oven gloves/hot pads, wrist warmers, even cute tote bag).
Any other upcycling ideas?
Related Categories
clothes and fabric
,
items
Search for other related items