How can I freshen up a tired winter coat?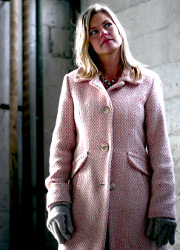 A couple of weeks ago, I spotted an article someone was promoting on Twitter about "sprucing up your tired winter coat". Ooh! I thought, I like sprucing! It's a great way to upcycle & reduce after all — but when I clicked over to the article, I found the sprucing involved the addition of various belts, brooches and doohickeys, which is fine but not very me.
For me, it's both a "repair this" and "reduce this" type question – how can I refresh that tired winter coat so I don't need to buy a new one? I think it's important that it not just so that it looks better but that I feel better about it too.
I basically have three coats for throughout the year – a light cotton hoodie (which I wear most of the year), an expensive-for-me big super-warm cotton parka type coat for freezing days, and a cheaper, shorter "wool" one which I wear when it's not quite so cold and I need to look a bit neater than in the parka.
So how can I freshen those up?
For me, there are two main areas that get tired dirty – my cuffs and my pockets. The hoodie gets thrown into the wash regularly, hurrah for cotton. The parka & wool one aren't as easily washable, especially mid-winter but spot-washing on the cuffs improves things a lot. As for the pockets, I treat my pockets like some women treat their handbags – a site for the accumulation of detritus. This is sometimes good (I found a fiver in my parka coat when I put it on the first time this year!) but mostly bad (crumbs of dog biscuts, bits of paper, sticky sweets). Emptying out the junk & cleaning out the crumbs and dirt from the pockets won't make it look any better (although a lot of junk does ruin the line of the coat), but it'll make it feel better for me and enjoy using it more.
Another thing: my wool one – it's not 100% wool but wool-heavy and it's that heavy woollen style – is bobbly. A bit of combing with a debobbler would make it look a lot tidier. I suspect there will also be some snags too which could be tidied up. I'm also going to debobble/de-snag my scarves, gloves & mittens for good measure.
Yet another thing: the zips on my hoodie and parka coat have been playing up recently – I could secure the bottom zip section in place with a couple of stitches and rub a little soap on the teeth to stop them snagging, and it would make zipping up a less frustrating experience.
Another, more involved thing: the lining on the wool-ish one has always bugged me – it's icky polyester and now it's torn a little too. I could use an old fun-patterned shirt to replace it – using the original lining as a pattern – an upcycling idea and revamp in one.
So that's what I do/will be doing. Have you got any ideas for ways to freshen up an old coat?
(Photo by sh0dan)
Related Categories
clothes and fabric
,
reduce this
,
repair this
,
revamp this
Search for other related items