How can I reuse or recycle used disposable Latex gloves?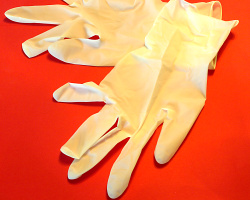 A few weeks ago, we had to pick up John's car from the garage after a service/MOT and while we were breathing in lungfuls of carbon monoxide waiting for the mechanic to finalise all the paperwork, I found myself staring at a big box of used disposable gloves near the counter. I don't know how long the pile had been accumulating but there was a scary amount of them apparently just about to go in the bin.
Once I got back into the open air and my head stopped swimming from all the fumes, my first thought was "how could I recycle or reuse them?".
I've only used latex gloves once – to provide grip when removing my now defunct tongue piercings – and I don't think I'd have liked to have used dirty ones for that — but my tongue piercing fondling ones were clean after use and have been kept in the cleaning cupboard if we need them for any dirty jobs.
I guess there will be some overlap with rubber gloves – but the thinner Latex may restrict – or inspire – other uses.
So suggestions?
(Photo by Capgros)
Related Categories
clothes and fabric
,
household
,
items
Search for other related items