How can I reuse or recycle pretty glass spice jars?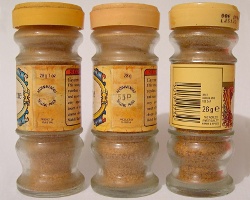 We've had an email from Dianne:
I found a box full of used glass spice jars at a car boot sale recently and had bought it before I knew it. They're those narrow round ones with plastic lids. I've refilled some of the herbs and spices to make my kitchen look neater but still have a dozen or so. Any ideas?
My first suggest was going to be refilling them – but you've already done that ;) We buy spices in bulk bags and decant them into old jars/purpose-bought jars to make them easier to store/use. Extending that, perhaps you could also make up your own spice mixes too?
Away from their (almost) intended purpose, I'd imagine like many small containers, they'd be useful for craft storage – small beads, buttons, poppers and whatnot, even tapestry yarn/threads (fed through the holes in the lid). The clear glass would make it easy to find what you want and look pretty on a shelf too. (Actually, we've covered more boring shaker topped jars in the past and a lot of those suggestions are crafty and applicable here.)
How about taking the top off and using a few of them in a row as single stem vases? You'd have to be careful they didn't topple over I guess – but they'd probably look cute (a bit like the test tube vase racks that were all over the place a few years ago).
Any other suggestions?
Related Categories
items
,
kitchen
,
packaging
Search for other related items