How can I use my oven more efficiently during baking?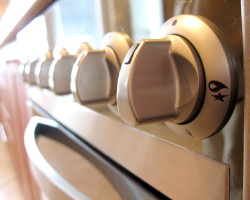 Yesterday, over on my new growing/cooking/making/frugal blog The Really Good Life, I discussed my love affair with slow rise/no knead bread. It's really frickin' ace – it doesn't take much effort, reduces our food waste, is cheap in itself & stops us spending money in other ways too – and most importantly, tastes great. However, at the moment, we're not making the best use of our oven while we're baking it – meaning we're wasting energy and therefore money.
The recipe needs the oven to be hot (230C/450F/Gas mark 8) and in addition to the 40-50 minute cooking time, it needs to be well pre-heated (the cast iron casserole dish needs to be sizzling or the bread will stick) – so a lot of heat for a long time. We don't generally eat enough bread to warrant making multiple loaves at once so I try to use the other space for other things. I've made scones/biscuits a few times and we nearly always have egg shells that need baking before crushing & returning to the chickens as grit.
Any other suggestions for things I could cook/bake alongside the bread? It's not a huge oven and the casserole for the bread takes up quite a bit of space but there is a spare rack for things no more than 6cm/3″ high, a narrow strip next to the casserole, and the oven floor too.
(We usually bake mid-morning so we have cooled fresh bread for sandwiches at lunchtime. Since I'm usually working then, I don't have a lot of time to make things from scratch and also it's not a suitable time to make things that need to be eaten immediately after cooking. The oven is too hot for slow-cooking anything for lunch/dinner. Any suggestions would be welcome but suggestions taking these points into account would be especially great!)
Related Categories
reduce this
Search for other related items