How can I build a baby playpen reusing or recycling stuff?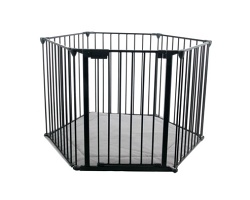 Early 2009 was apparently a boring time around here: every couple we know – bar one other couple & us – had a baby last autumn/winter. (The other couple are expecting their first in just over a month; we got a dog & chickens instead.)
All the babies are starting to crawl/walk with support now so need penning in lest they get *everywhere*. At their own homes, they've have purpose-bought playpens but when they visit here, their parents have to hold them/leave them in their prams for the duration of the visit. I bought a handmade quilted playmat for when they were smaller and couldn't escape so easily but mobilebaby has put an end to that. What with our dog, cats & chickens, giant cactus plants, knitting needles & other sharp/swallowable craft supplies, endless electric cables and bajillion stairs (house over four storeys, garden over another four) … well, with all that, sometimes I think *we* need to be penned in for *our* safety.
So, anyway, I'd like to make a playpen type thing – and I'd rather not buy a whole lot of expensive supplies to make it. However I do realise there are safety concerns – especially with hinged bits (it will need to be collapsible so it can be packed away when the babies go home to stop the dogs/cats/chickens getting in it).
There are surprisingly few how-tos online (or at least very few that I can find), which is odd considering how long babies existed before the invention of mass-produced nursery furniture. There seem to be two basic designs these days – wooden bars (or metal/plastic ones like in the picture) or plastic mesh sides. I presume the babies will be very keen to see out so reusing/upcycling some regular fabric – for example, old bedding – for the sides would cause upset.
Any thoughts/ideas?
Related Categories
baby
,
reverse this
Search for other related items