How can I make recycling easier at home?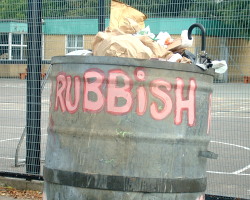 You guys, I have a confession – I've been creating more to-landfill waste than normal over the last few months and I don't really know why.
In our old house, it was rare that the landfill bin was even a quarter full when it was emptied but here, it's always over half full, two-thirds full by the time it's emptied. That's a lot of rubbish.
I think there are a few things at play – we've been doing a lot of work on the house & garden which has generated waste. We've had a lot of deliveries related to that, so more packaging waste than normal. And, most important, as we've technically moved cities, the balance of what we can recycle has changed too – we can recycle glass now but can't doorstep-recycle plastic or corrugated card. (We're more likely to reuse glass jars etc and we've had a lot of card because of the DIY/deliveries.)
But I think it also feels harder for us to recycle than it used to be – we have to separate out the recycling more, our compost bin is three flights of stairs away from the kitchen, we're eating in more so creating more food-related waste (although not specifically food waste) and even though the house is bigger, it feels like it has less bin space in the kitchen (so can't separate in there) and we haven't got any cellar space like we used to have for medium-term storage of items to be reused. Excuses, excuses.
Almost needless to say, I want to solve this situation! Becoming a zero waste household isn't feasible for us but I'd like to cut down a lot, preferably down to less-than-the-old-house waste levels.
Some ideas I've had:
reduce! The first wave of DIY stuff has mostly come to an end so that'll cut down a lot of waste and also make it easier for us to bake/cook more at home & cutting down on food packaging
get multiple bins (or a single divided bin) in every room to separate recycling on the spot (we already have multiple bins in some rooms and it's a great help)
get a covered bin in the front yard for stuff to take to recycling facilities at the tip (at the moment, we've got stuff in carrier bags – it looks untidy and isn't waterproof)
free up some space in the store room (the closest thing we have to a cellar) and half-a-garage to allow more storage space for reusables
set aside a specific box for charity shop stuff and donate the contents regularly
research an animal poo solution! (Something more like a bin to break it down rather than a cork to stop it coming out in the first place.)
But what else can I do?
Related Categories
household
,
kitchen
,
reduce this
Search for other related items