How can I reuse or recycle pre-packed sliced meat packaging?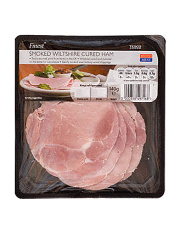 After writing Wednesday's post about deli counter plastic wrapping, I got thinking about pre-packaged cooked meat packaging and what a pain they are to reuse or recycle.
The ones I'm thinking of are used in the UK for sliced meats such as ham or roast beef/chicken, "continental sausages" (ie chorizo, salami etc), or wafer thin water-injected animal shavings (mmm!). The packaging has a semi-rigid shallow plastic tray and is covered with heat sealed plastic film. According to the misc pack of salami we have the in the fridge, the packing "currently isn't recyclable (but because we care about the environment, we're working on it)". (Uh huh).
There is obviously a reduce option – although depending on the alternative provision, you might end up with as much plastic anyway.
Most packs only contain a single layer or a few slices max so the plastic tray is a little too shallow to use in the usual plastic tray ways – a saucer under plant pots, a paint palette for budding Monets – so are there any other ways they could be reused instead?
Related Categories
food
,
items
,
kitchen
,
packaging
Search for other related items