Reducing, reusing & recycling water – super green super tips!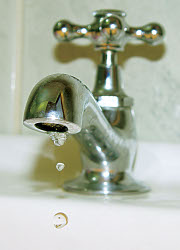 Following on from yesterday's watery post, green blogger Crunchy Chicken has proposed a "Dry Humps" (as in camels) challenge for one weekend next month. She states that the average American individual uses between 100 – 176 gallons of water a day, whereas an average *family* in an African country only uses 5 gallons of water.
The Crunchy one's challenge is for people to cut down to 5 gallons a day (per person) for the weekend of the 12th & 13th June. Five gallons is 22.7ltrs, and as a guide, an average bath tub holds about 40gallons/150ltrs, and each toilet flush uses between 1.6gallons/6ltrs and 3.4gallons/13ltrs depending on whether it's a new-fangled or old fashioned sort. So five gallons/22.7ltrs, per day, per person for a weekend really isn't that much to live on – so quite an extreme challenge for us decadent water wasters, particularly at the height of summer.
A number of people who are taking up the challenge have wondered aloud how they'll do it and another set of people have said the challenge is too extreme for them but they'd like to cut down their water usage over permanently – so I thought it might be a fun idea to brainstorm some dark green super tips – or bright green water saving gadgets or ideas.
We – the people switched on enough to read green websites – all know we should turn off the tap when we're cleaning our teeth and to fill our washing machines rather than running them on water-wasting half loads. They're the equivalent of "put on a jumper before turning on the heating" ideas for reducing heating bills/usage. But what are your favourite water saving hints and suggestions?
Do you have any gadgets to reduce water flow? Has a pay-for-what-you-use water meter helped keep you focused?
Do you use grey water (from baths, showers, washing machines etc) or stored rainwater to do anything fun? Have you hooked up any systems to automatically do that?
What about in the garden? It's getting warm out there now and I don't know about you but my veggies are gulping it down already. Do you do anything in particular to make sure you're using what you need but not being wasteful?
And what about in the workplace? Have you encouraged your colleagues to cut down? Or seen any great water saving ideas in industry?
Any other ideas?
Related Categories
household
,
items
,
reduce this
,
water
Search for other related items