How can I reuse or recycle abandoned shopping trolleys/carts?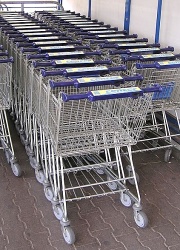 My boyfriend John came up with an idea yesterday. We were just finishing up lunch when he said:
Darling beloved girlfriend of mine, have you featured old shopping trolleys on your terrifically awesome site Recycle This? Because there are currently three we'll have to get rid of – the one half-buried in grass in the woodland next to our house and the two further down the stream in the woods proper (where all the rubbish collects at the bottom of a big hill and which we're going to tidy up this summer). Your wonderful readers must be able to come up with some ideas for them and now, I'm going to make you a giant milkshake because I think you're so great.
(I paraphrase slightly.)
Since they're metal ones, they could just be scrapped but you know me, I'm much more about reuse than recycle.
By my guess, all the trolleys have been in their current place of residence for at least a couple of years so it'll be both a pain to get them back to their original homes. I think they still technically belong to them, so if it's obvious where they're from, we might call to see if they'll deal with it – but they're not in a condition to be reused there – they'd probably just send them for scrap.
Any ideas?
(CCSA photo by de:benutzer:aeggy)
Related Categories
business
,
items
Search for other related items