How can I reuse or recycle old immersion heaters/boilers?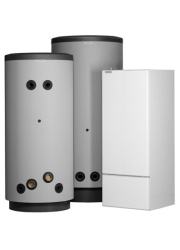 Next up in a mini-theme week on heating and energy:
It may have been sparked by the turning of the seasons but there seem to be a lot of people in my life buying new boilers at the moment – my mum & dad's 28 year old one is getting cranky and is going to be replaced by a much more efficient one; my best friend Katherine's is slightly newer but even less reliable, which isn't ideal given she's got a 22 day old baby at home (hi again baby Joe!); and our boiler at the old house won't make it through another winter and will have to be replaced by either us or the next people in there. (Both my mum & dad and Katherine have immersion heaters/tanks, we had a combi.)
They've got a high scrap value at the moment because they're usually made from a whole lot of metal but are there any good reuses for them rather than just sending them for recycling?
Anyone turned them into giant barbecues or woodburners/stoves? I've seen metal barrels and gas canisters used for those things… I guess the immersion heater type tanks could be used for water butts in the garden, maybe?
Any other cool reuses?
Related Categories
household
Search for other related items