How can I reuse or recycle nylon guitar/ukulele strings?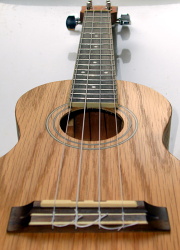 John was restringing his ukulele (not a euphemism) the other day when he flung the old strings at me, saying "how can I recycle this?" It was a good question ;)
We've covered metal guitar strings on the site before but not their nylon counterparts. A lot of the suggestions for the metal ones were jewellery related and I guess that would work here – the thinner ones will be perfect for covering with beads.
Also, like everything else even vaguely string-related in the house, one of the strings immediately became a cat toy – John tied a metal hoop to one end that, as far as the cats were concerned, then jiggled about of its own accord. OMG! HAUNTED HOOP! KILL! KILL! KILL!
Any other suggestions? We get four strings every time John changed them and we know loads of other people who play the uke too so it would be great to reuse them all up.
(By the way, John and I started a fun, silly project late last year, singing Wikipedia articles accompanied by a ukelele: Ukepedia. We've not had time to record all the ones we've come up with but a few of our friends have – the "Bedfordshire Clanger" and "List of WCW Hardcore Champions" videos are my favourites :) )
Related Categories
hobbies
,
household
,
items
Search for other related items