How can I reuse or recycle talc/talcum powder?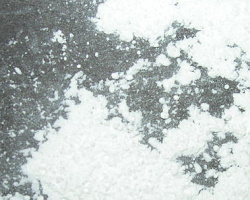 We've had an email from Anna:
Hi! I've just been reading how bad talc is (oh my god it's bad!) and no longer want to use it on my body. Is there anything I can do with it instead?
I'm not an expert on talc – I've not used it for years anyway so not read up on it much – but from a brief Googling around now, it seems the main problems with it are an increased cancer risk (most notably ovarian cancer, often but not always related to the application of talc around the genitals) and pulmonary issues related to inhalation. The inhalation thing may limit the potential reuses – but does anyone know of any?
Related Categories
baby
,
bathroom
,
items
,
medical
Search for other related items