How can I reduce the amount of paper we use at work?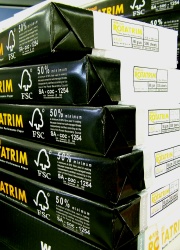 Continuing with Alice's Reduce This questions from last week, she's also asked:
Any thoughts on reducing paper used at work? In my housing co-op we send out several pages of minutes and agendas every month, and I'd appreciate any bright ideas about that.
We've covered ways to make offices and schools recycle more during our stationery week late last year but how about reducing the amount of paper generated in the first place?
My first thought is make sure all those minutes and agendas are absolutely necessary – not just whether it's necessary to print them out but whether it's necessary to minute in the first place. I used to work at a old-school university and we minuted every committee/group meeting, then circulated both electronic & paper copies to everyone involved. Then someone sat down and worked out which meetings had to be minuted by law/university rules – I think it was maybe two groups instead of a dozen. The other groups switched to just taking notes of action points instead of full minutes, which were just circulated electronically = a huge saving of both time and paper.
Any other suggestions?
Related Categories
office
,
paper & stationery
,
reduce this
Search for other related items