Composting teabags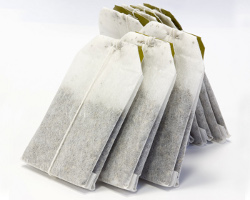 Over on the Really Good Life the other day, I listed all the consumables I used in one day and their packaging. I think it's easy to become blind to things you routinely use and listing them helped me realise where I was creating unnecessary waste/exposing myself to unnecessary synthetic chemicals in my day to day life. I'm going to do the exercise again a few times over the next couple of weeks to get a more accurate broader picture (for example, on the first day, I didn't do any household cleaning or laundry, or much cooking).
The reason I'm mentioning it here is two-fold — firstly, I thought it was a useful exercise and I'd recommend it anyone wanting to reduce. Secondly, I categorised my teabags as "probably not compostable" so possibly destined for landfill, which caused a bit of discussion in the comments (we do actually compost our teabags but not without a little hesitation). As I mentioned over there, Alice in Blogland looked into the issue a few years ago and found that teabags often include synthetic material in the heat sealed bit – the paper bag and the leaves are but not everyone wants synthetic materials in their compost heap. Without the heat sealed bit (typically food grade polypropylene), the bags wouldn't stay sealed during manufacture and use.
It's four years since Alice's research though and the corporate world has made many green(washing) steps forward since then – so I thought it might be useful to check the situation again. I contacted ten tea companies and asked them whether I could compost their tea bags. Here are the responses:
Tetley
Tetley got back to me very, very quickly – which makes me think they get asked this question quite a lot:
The material used to make the actual tea bag is a mixture of mainly cellulose fibres and a small amount of polypropylene fibres to give the heat seal. Under normal composting conditions the cellulose fibres will break down, as will the tea, leaving the very small polypropylene fibres which are normally so small they are not seen. It does however take a reasonable amount of time to do this and really needs to be placed into a 'proper', established compost heap.

If it has not broken down it may be because:

It has not been left long enough
It hasn't spent enough time at the centre of the heap where the temperature is higher
It has been put on the garden, not on a compost heap
It hasn't been mixed with enough vegetable or organic matter
The worm population is not high enough

The packs themselves are not compostable. We are working with our packaging suppliers on an ongoing basis as they are currently unable to supply us with fully biodegradable packaging that we can use for our packs. Comments like yours actually help us keep the pressure on our suppliers to produce a solution.
Taylors/Yorkshire
Taylors, who make Yorkshire tea as well as their own "Taylors of Harrogate" brand, say:
I can confirm that our teabag paper is layered up in several layers. One side of the paper incorporates a very thin web of a meltable plastic (polypropylene). …

We advise our customers that they can compost our tea bags. Legislation says that provided an item is 95% degradable, then it is classed as
compostable. The amount of polypropylene in teabag paper is much less than this, so from a legal point of view teabag paper is compostable. Basically polypropylene is inert and does not react with or damage plants or animals. There is some argument that says that polypropylene
fibre can help soil bind together and aid water retention in soil, but the amounts of polyprop that you would compost via tea bags would really not register in a typical garden.

My colleagues who are keen gardeners report that, with a good, healthy compost heap, our tea bags compost in around a year or so. One suggestion that we often give is to use them in a pot on top of crocks and underneath the soil to aid drainage.
Whittards
Whittards say:
We are pleased to inform you that the teabags are compostable.
Twinings
Twinings say:
I can confirm that our Teabags are decomposable, however if you purchase our envelope teabags you will have to tear off the staple and string*. Also it has been made aware to us here at Twinings that our teabags compose better when they are split.
(I'm wondering if that means that the string is synthetic rather than cotton…)
Clipper
Clipper say:
… The Clipper products that contain square/standard tea bags use unbleached paper that is composed of plant and wood fibres and a low level of polypropylene …

Clipper products that contain 'String & Tag' tea bags, use tea bag paper as detailed above, but without any plastic/synthetic fibres. …

Clipper teabags are suitable for inclusion in compost heaps where the wood and plant fibres will break down. Any remaining fibres will be so small that they cannot be detected and will disperse in the soil.
Yogi
Yogi, who make a lot of herbal teas, say on their website that they use:
100% oxygen bleached paper bags, sewn with pure cotton strings and stapled with inert metal … then individually packed in heat-sealed envelopes
Tazo
Tazo also make different herbal teas and they say they use:
oxygen-whitened hemp cellulose [fastened with] food-grade aluminium staples
London Tea Company
The LTC say their "boxes and pouches" are "biodegradable" – I'm not sure if "pouches" means the bags or envelopes for individually wrapped bags though.
No response yet
PG Tips – no response
Typhoo – no response
Conclusions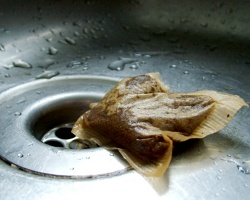 All the "heat sealed" bags I looked into use polypropylene – which will usually break up (rather than break down) in a good compost heap. I think it comes down to the individual on whether they want those fibres in their resulting compost – a single bag might not have much in it but you know what us Brits are like, I think our compost heap is 50% tea bags (…only a slight exaggeration). Polypropylene is classed as "low to moderate hazard" by the Environmental Working Group in the US but there have been reports of polypropylene containers leaching chemicals which have "potent effects on enzymes and proteins". Teabags would only add a low amount of that "low to moderate hazard" into a compost heap but still, some people may choose to avoid it.
There is a similar choice with stapled gusset bags – they don't need the polypropylene but some people might want to remove the staple (I do a lot of …soil fondling with my hands and I'm not sure I'd like to come across lots of sharp staples in the soil).
Loose tea obviously side steps these issues – reducing the amount of resources used in the first place and the amount of waste that need dealing with after use (particularly compared to individually wrapped bags). You can get reusable metal infusers in different shapes and styles if you want a tea bag experience rather than using a pot/strainer.
Do you compost your tea bags? Have you had any problems composting them? Do you avoid them because of the resources/waste?
Related Categories
food
,
items
,
packaging
Search for other related items