How can I reduce the waste I receive at conferences etc?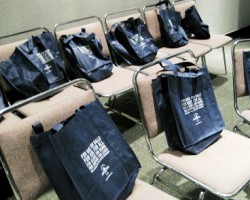 My starting off point for this post was the question "How can I avoid getting free stuff at conferences etc?" but the easy answer to that is obviously "just say 'no, thanks'".
There is a bigger related discussion though: how can we stop companies from giving away likely-to-instantly-break junk at conferences and exhibitions etc in the name of promotion? And how can we reduce the one-off waste created by conferences in general?
This question is partly inspired by yesterday's post about recycling promotional rucksacks but also because it's the start of conference season (in the tech world at least) so there will be a lot of promotional junk flying around soon. To be fair, some of the stuff we've collected at events in the past has been well made — I've had some promotional pens last for years and my favourite shopping bag is from a tech conference in 2008 (and when it finally falls apart, I'll use it as a pattern to make a new one) — but a lot of it is poor quality and random stuff that just about no one needs. Still, despite it being crap, there seems to be almost an expectation about the provision of swag at conferences – I know people who feel a bit cheated if they don't come away with at least one free t-shirt, even though many are poor quality and they admit used only for decorating or laundry day provision.
Has anyone attended any conferences or events where the organisers/companies have cut back on junk, given away quality items or been more creative with their offerings?
Or has anyone had any luck convincing organisers/companies to cut back or make the switch to better stuff? And what can be done to change the expectation attitude of attendees?
And what else can be done to reduce the one-off waste produced by conferences and the like? Any clever ways to avoid providing new nametags (especially ones needing lanyards) at every event or reducing the amount of paperwork (schedules, maps, other blurb) given to attendees?
(Photo by TheSeafarer)
Related Categories
items
,
office
,
reduce this
Search for other related items