How can I reuse or recycle cat biscuits?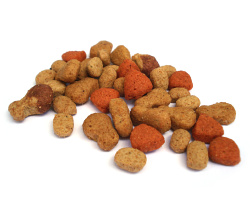 Well, less of a "reuse/recycle", more of a "what else can eat them?" question…
Our cats are becoming increasingly fussy eaters in their old age. They've always been pretty fussy but now they're teenagers, it's getting worse – and we end up with a lot of mostly full boxes and bags that they are just not interested in eating.
We've swapped cat food with friends and neighbours in the past but all our felines have reached that certain age now and either had their teeth removed or as fussy as ours, so there is less swap potential. The supermarkets around here collect food for local animal shelters but I suspect they'll only want sealed boxes/bags to be sure nothing has been tampered with.
I'd rather not compost them as I suspect the smell will attract undesirables to the heap but I also don't want to just bin them. So any ideas?
Related Categories
household
,
items
,
kitchen
Search for other related items