How can I reuse or recycle teeth?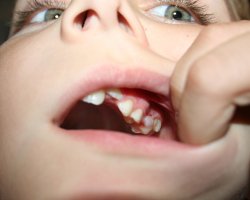 Heh, a bit of a weird/fun one for a change.
Apparently, the actress Scarlett Johansson had some of her wisdom teeth taken out recently and decided to get one gold-plated and put on a necklace as a birthday present for her boyfriend of six months, Ryan Reynolds.
I would totally salute this concept – if I ever have kidney stones removed and can keep them, well, fun earrings a go go! – but if Scarlett hadn't wanted to make jewellery out of her chompers, what else could she have done with them?
The tooth fairy must have a huge stack dying for a re-use too. So any ideas?
(Photo by MadMaven/T.S.Heisele)
Related Categories
household
,
items
Search for other related items