How can I reuse or recycle honey?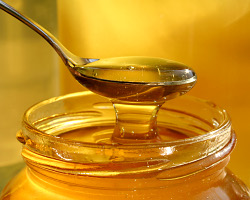 We've had an email from Ronnie:
My youngest got it into his head at Rudolph likes honey (or Winnie the Pooh was pulling the sled too, we haven't got a straight answer from him about it) and left an open jar on his window sill on Christmas eve. We only found it on Tuesday. Aside from the single fly, it looks OK but no one wants to eat it. Can we compost it?
You can compost it but if I were you, I'd save it to reuse in other ways. Honey is a great beauty aid – mix with oatmeal and water to make a soothing face mask; mix with water and a little cider vinegar for an all-over body moisturiser; with olive oil, it can make a hair condition; and it has anti-fungal qualities too so can be used as an alternative treatment for athlete's foot.
And apparently you can use it to embalm the dead. If you're into that sort of thing.
Any other reuses for honey?
Related Categories
food
,
items
Search for other related items