How can I reuse or recycle apple peels & cores?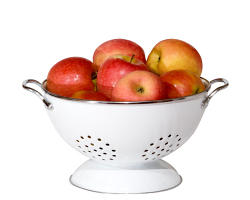 Frequent commenter on Recycle This, Linda, the bookstorebabe, emailed to tell us about a recipe for using up apple peel and cores:
I just read this on Craftster, about making jelly from the peels and cores of apples. Seems like a nice way to use something that otherwise would be composted. Especially if you're making apple pie or such like. No, I haven't tried it yet, but I plan on it! And I follow your website, so just thought I'd pass along the link. The first page has the recipe, the second page has some info I didn't know about how jelly jells and such.

You have a lovely website – full of so many useful ideas!
Great link, thanks! I love recipes that use up the bits of food usually thrown in the compost bin – especially at the moment when so many people are cooking up gluts of apples.
Another reuse for apple peels is to make apple cider vinegar – either using a wild fermentation method or using cultivated winemaker's yeast.
We also feed chopped apple peel/cores to our chickens – an indirect way of putting them in the compost really.
Any other suggestions? What do you do with your peels and cores?
Related Categories
food
,
garden
,
items
Search for other related items